Beautiful variety –
art in the GolfHotel
Fröndenberg and the region in the northern Sauerland has always been home to an active artist scene. We would like to offer them an exhibition opportunity in our GolfHotel. In this way our guests can enjoy impressive works of art and the local artists receive the attention they deserve "from outside". A benefit for all.
Also for our corridors and our lobby, which we embellish every three months with new exhibitions. On this page you can always see which of the changing exhibitions you can currently view in our Hotel. The artists and we look forward to your visit.
Current exhibition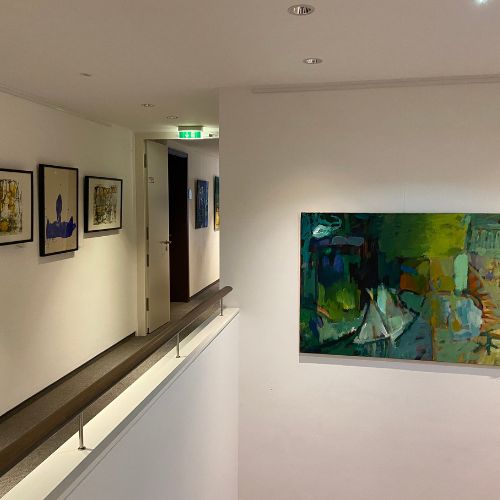 Local artist group freiraumGestalten
Actually we are pleased to welcome the exhibits of the local-based artist group "freiraumGestalten". The current exhibition of the three local artists Margit Hübner, Anette Henderson-Neumann and Alexander Wotschel is on display in our house until August 22.
You are welcome to view and purchase the works in our hotel at any time. As always, 10% of the sales proceeds will be donated to "Theo Beiske hilft" – a local fundraising campaign for children with cancer.